FORTE FORTE ROME AN ONYX CUBE IN THE ETERNAL CITY.
首
2021-06-23 16:01
Behind a traditional travertine facade in Rome a vibrant green onyx monolith awaits. Designed by the brand's co-founder, Giada Forte, and her partner, creative director Robert Vattilana, this fashion boutique dutifully captures the city's harmonious relationship with contrasts.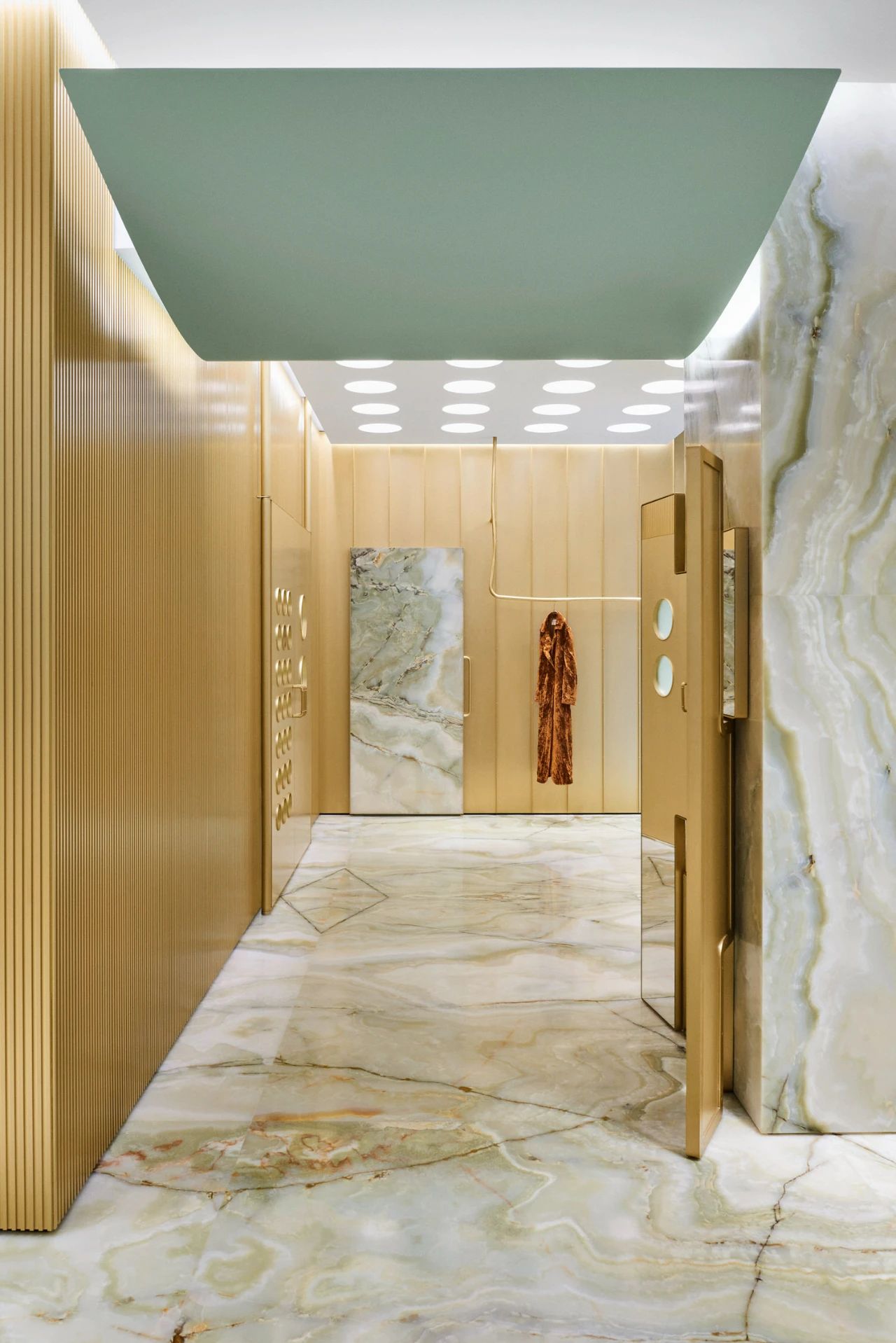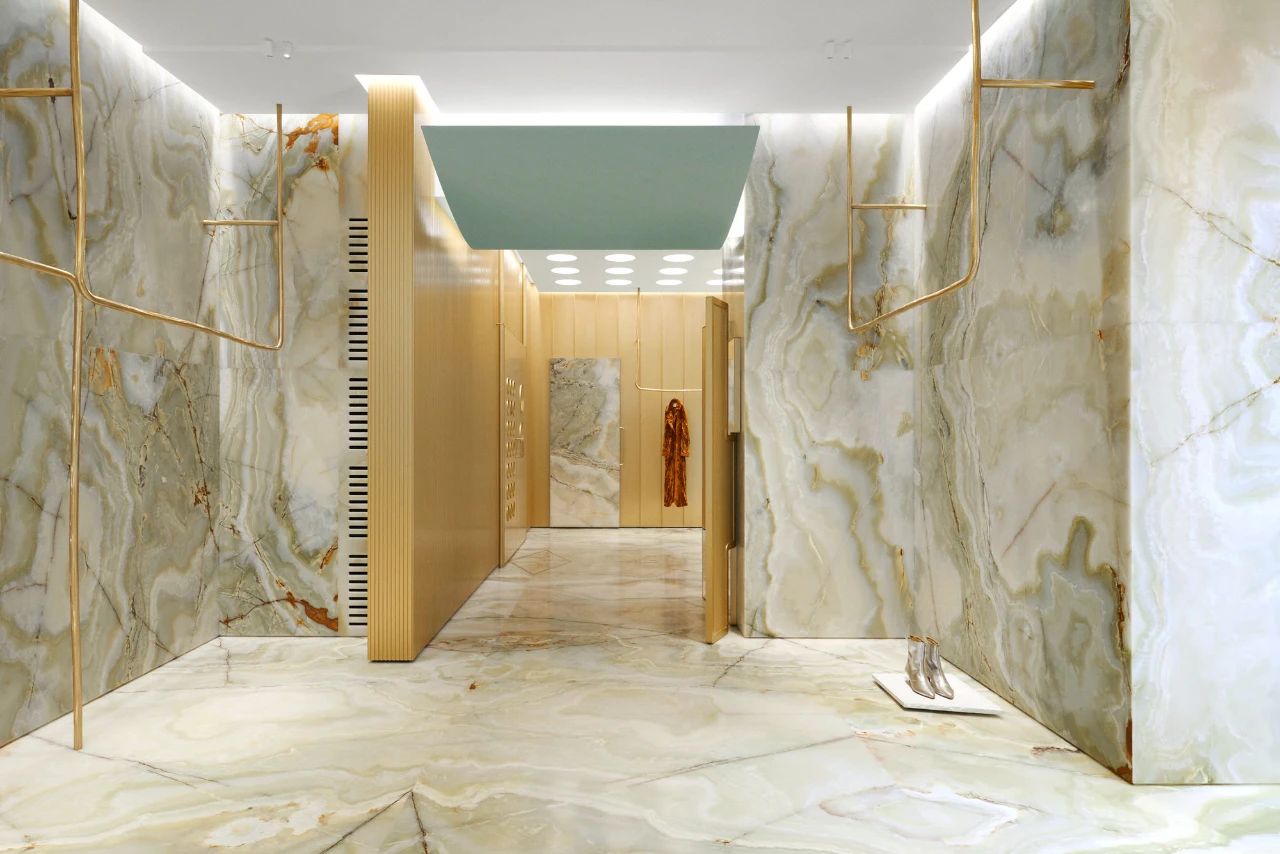 The store is the brand's eighth outpost, with others located in places like Milan, Paris and London. Every location follows a different rhythm, telling unique and multifaceted stories yet with shared elements that tie them together into the enveloping narrative of Forte Forte.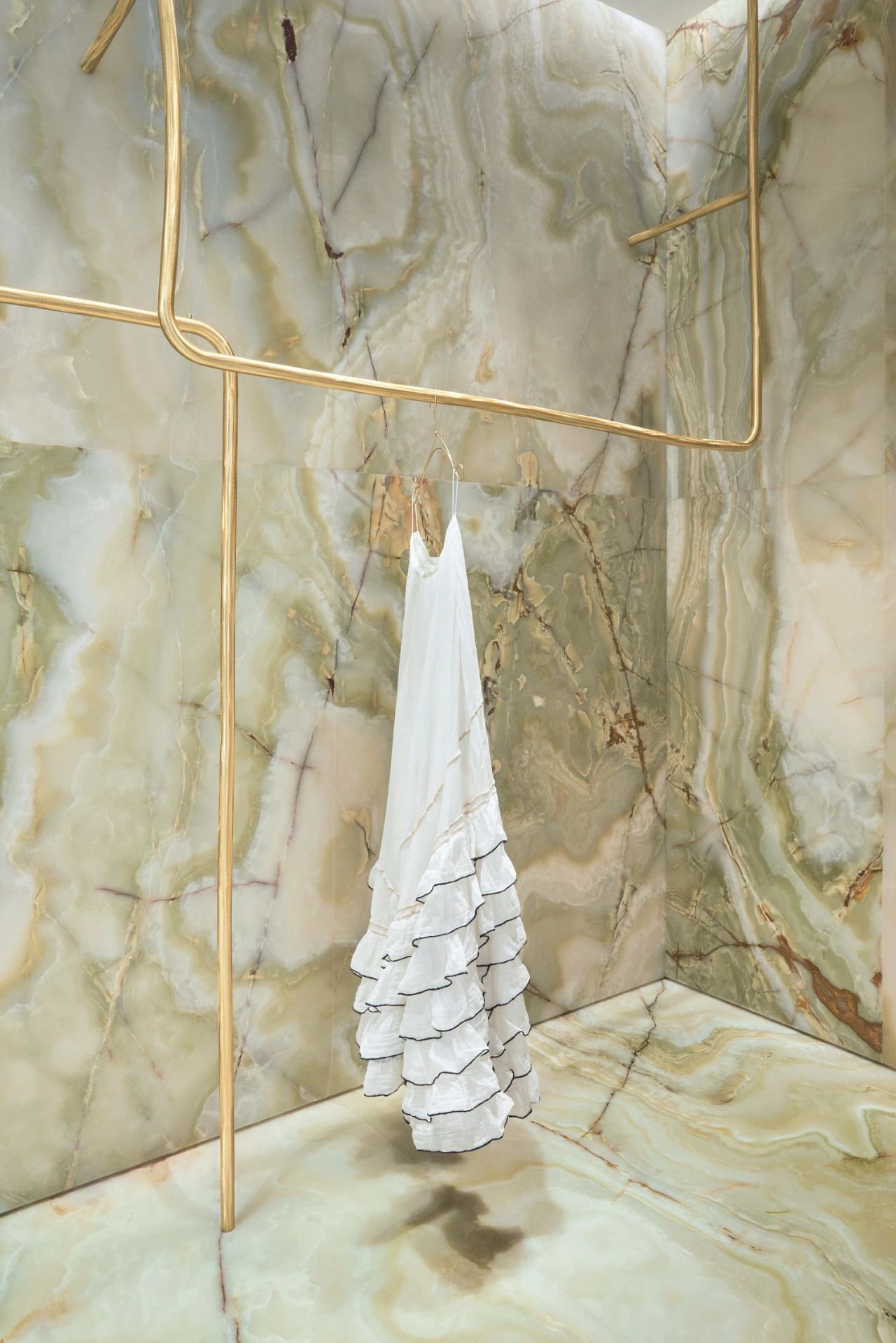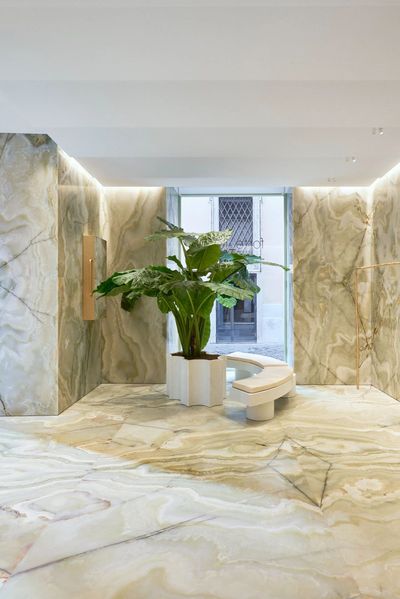 Located on Via Borgognona, in the 4th district of Rome, the area was once the heart of the Campo Marzio. Full of artists and littered with character, the design looks to the streets rich history to mark a new chapter for the brand. Housed in a historic building that's heritage protected, sage green fixtures are a light and present touch against the fortress of travertine.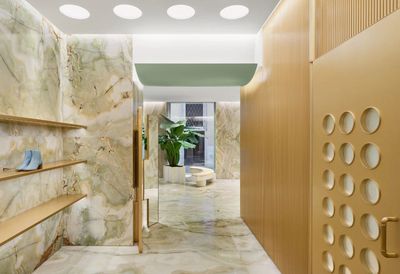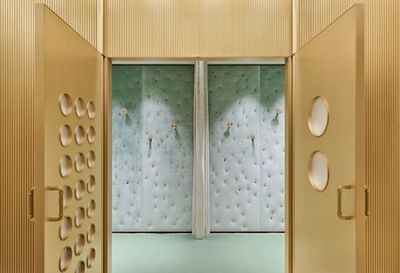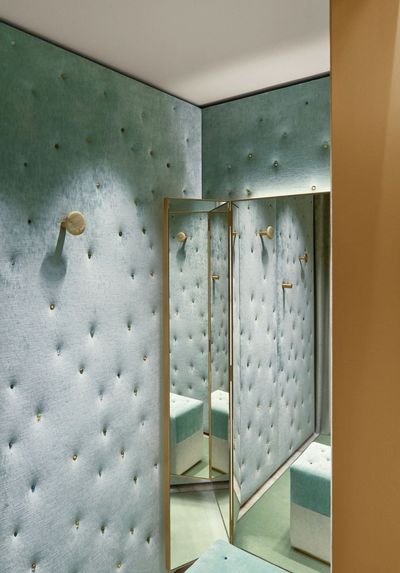 The onyx, sourced in Afghanistan, was chosen for its unique design that contains a history at least as long as the cities in the loops of its marbling. In a city of travertine, it's a welcome surprise that feels modern rather than baroque. Treated in large symmetrical blocks and worked to obtain a matte surface its particular mineral structure forms nuanced transparency when in contact with light.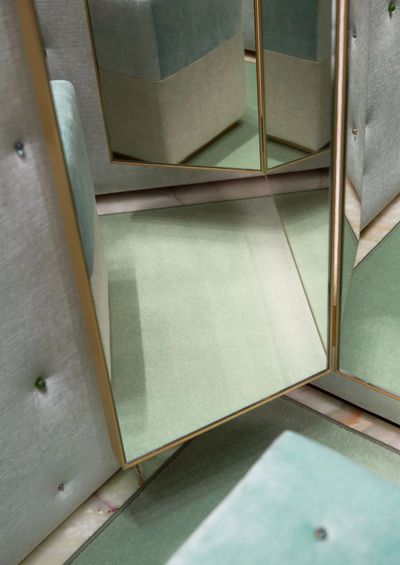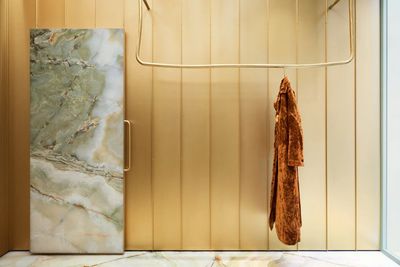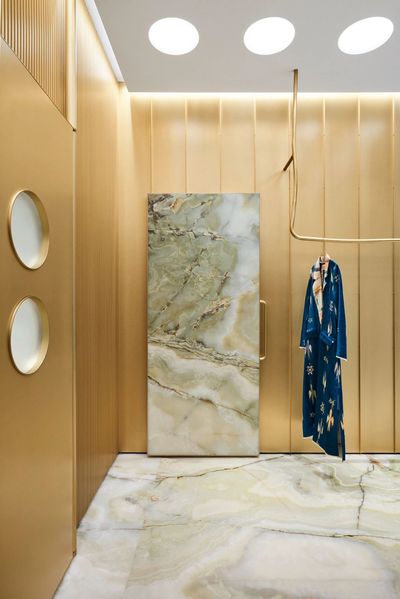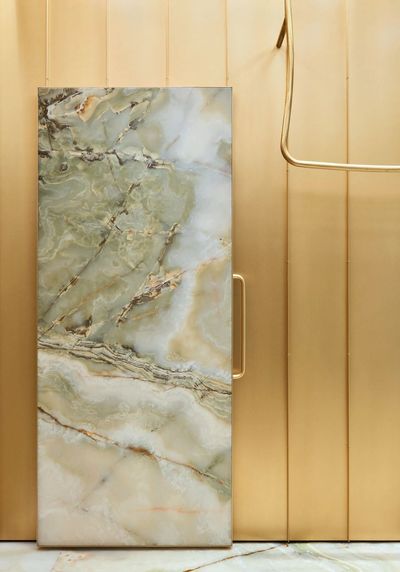 Like a scenic box the entire perimeter of the interior is illuminated by a cascade of light. Divided into two spaces by a triptych mirror mounted to the wall and a large curved shield in sage green the ceiling in the initial part of the shop is white with overlapping dynamic bands, while the second area features luminous portholes puncturing its white plaster ceiling.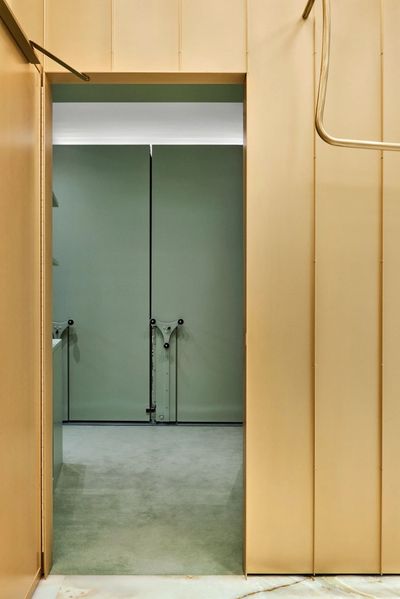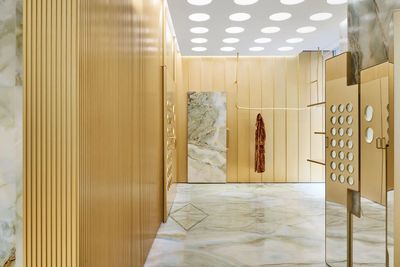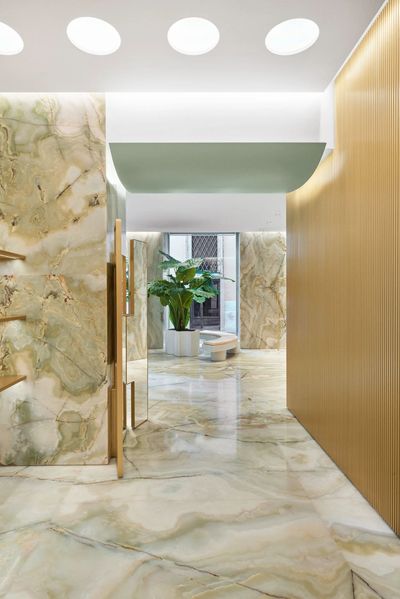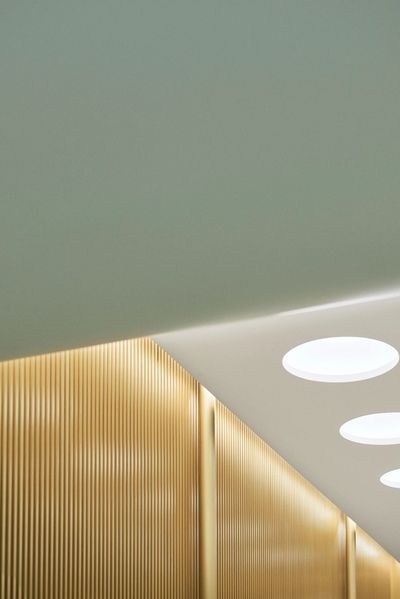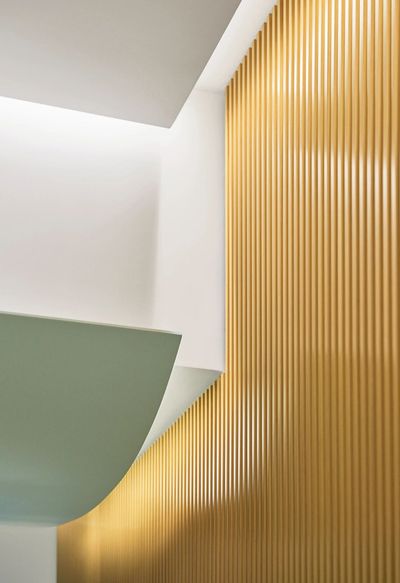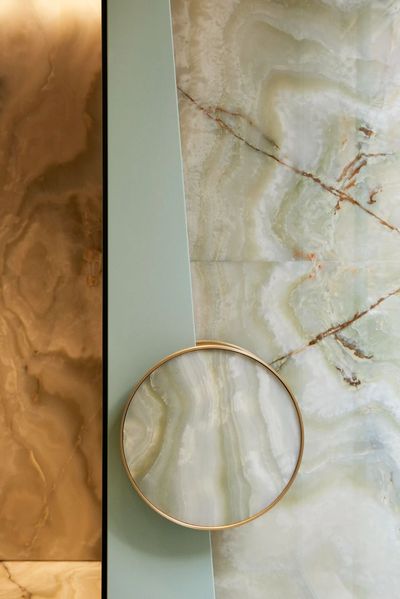 The back wall has panels in polished brass folding in on themselves, anchored by elegant stitching. A glossy accent against the onyx, it's also used to form shelving, mirrors and wobbly clothing rails – a familiar fixture found in other Forte Forte outposts across the globe.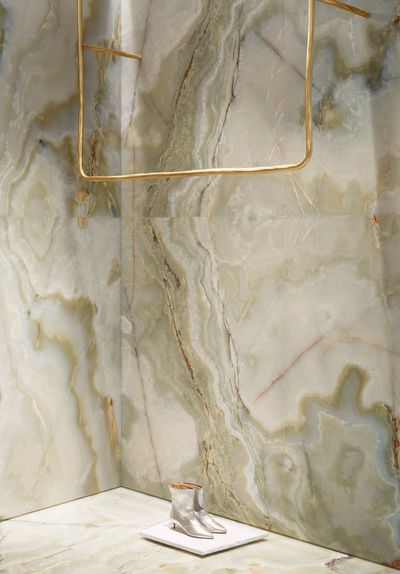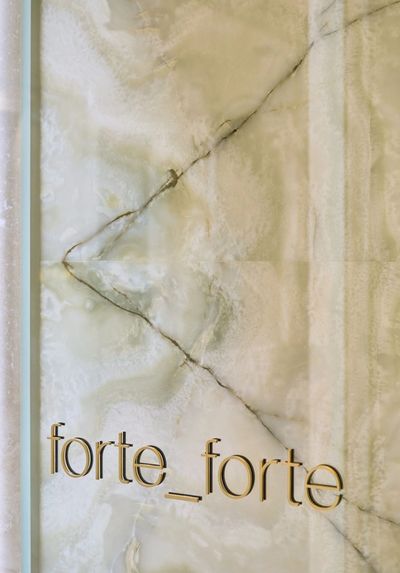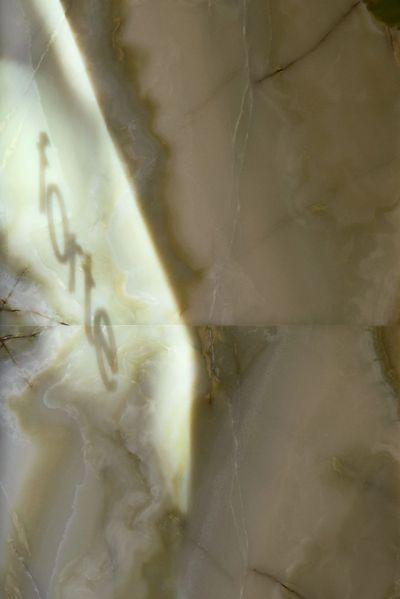 Brass hinged doors perforated with more portholes reveal feminine, boudoir–like interiors draped in luxurious sage–coloured capitonné velvet. Furniture acts as an eclectic balance to the tasteful materiality, a circular bench carved from a block of agglomerate wraps around a cloud-shaped pot containing a plant with surreally giant leaves. Found objects give the volume a lived-in feel with collected items like books, pottery and labradorite, jasper and pink quartz stones on display across from the dressing rooms.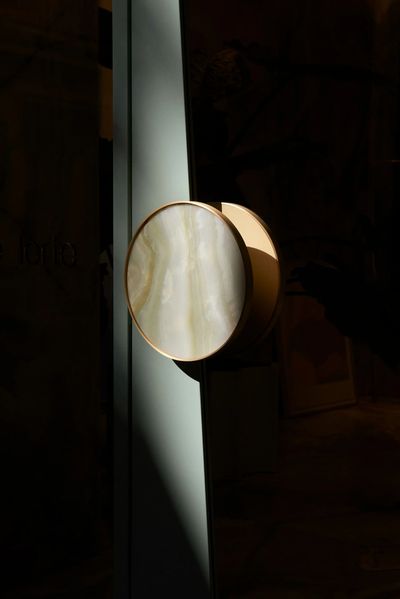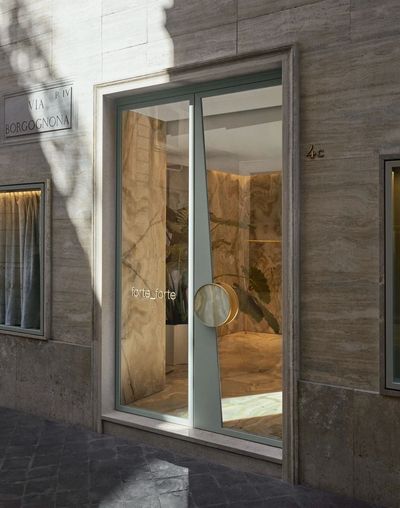 Marking their first creative partnership in Rome, the store reflects the same traits and personality that define all their successive branches and encompass the brand identity as a whole. Refined colours and light wabi-sabi imperfections coalesce in timeless classicism.
相关文章
2018年走过了四分之一,LOGO设计趋势也清晰了LOGO设计

2018年走过了四分之一,LOGO设计趋势也清晰了LOGO设计

2018年走过了四分之一,LOGO设计趋势也清晰了LOGO设计
下载